Motivational Speaker Dave "The Shef" Sheffield Shares Recipes for Success In Leadership, Sales, and Motivation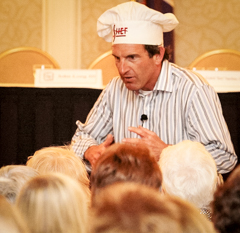 Award winning motivational speaker Dave "The Shef" Sheffield helps audiences discover personal and professional breakthroughs of success with his live speaking events and books.
Audiences love Shef's custom-tailored interactive and entertaining motivational messages to help them generate more success in their business, grow their sales, and create a contagious culture of excellence in the workplace. Fortune 500 Companies, Business Associations, Chambers of Commerce, and Thousands of Small Business Groups all agree that The Shef's Motivational Speaking keynotes and workshop programs produce amazing results.
More than 562,000 people from 58 countries have discovered the "Always Better Your Best" benefits that The Shef's live motivational speaking programs and his top selling books deliver. While there are a lot of motivational speakers to choose from, The Shef will not only leave your audience motivated; they will be given the tools necessary to take immediate positive action.
All successful leaders and organizations utilize these 3 recipes for success:
Create a clear vision that is easy to embrace
Embrace a culture of motivation, customer service excellence, and constant improvement
Constantly sharpen their skills to help them Always Better Their Best
No matter where your business or organization may be currently, The Shef can help your audience discover the ingredients that will help them achieve and exceed their goals.
Partial List of Satisfied Clients